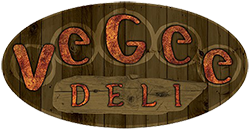 Our mission is to provide a generous selection of vegan friendly and gluten-free food, using seasonal vegetables and locally sourced, fair trade produce. It's not just a niche or specialist place to buy food from; there's something for everyone to enjoy!
Be prepared to get your hands on fresh ground coffee with dairy-free milk, vegan cheeses, antipasti, a selection of pastries and cakes, hot specials, freshly made sandwiches, salad boxes, hand-baked gluten free bread, locally grown veg, herbs and plants.
VeGee also offers an all vegan bespoke cake making service for birthdays and other special occasions.
Established in 2017 as a small deli, VeGee has recently moved from Kirkley to Pakefield. As well as takeaway food from the new deli, VeGee now offers:
A full vegan lunch menu 5 days a week, available to eat in the restaurant or bar
A wide selection of vegan wines and gluten free beers
A sunny, spacious courtyard
Restaurant service:
Tuesday – Saturday - 12-2
Deli service:
Tuesday - Saturday - 12-4